Angus Female Sale
An elite offering of proven donors from reputation cow families selling along with their embryo production. Plus, yearling replacements, Spring and Fall bred cows.
Save the date!
Spring Angus Production Sale
April 22, 2023 • 1 PM

Semen for Sale
We are currently offering semen for sale from KCF Bennett Summation. Summation is a powerhouse of a bull with phenomenal EPD numbers. This bull is sure to move your herd forward.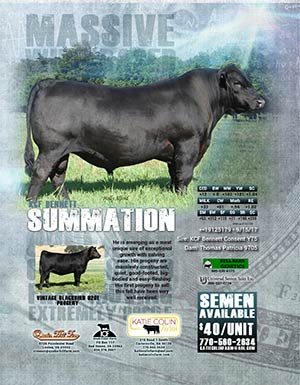 Pricelist:
Semen: $40
AI Certificates: $40
Sale Archives
2022 Angus Female Sale
Spring Angus Female Sale
April 23, 2022 • 1 PM